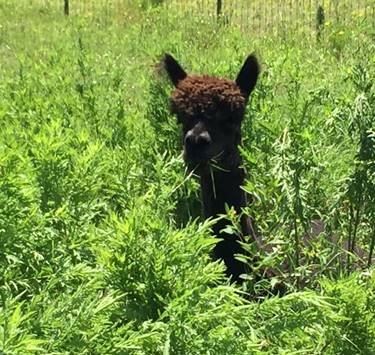 Although alpacas (pronounced al pak ahs) are relatively new in North America, they have been domesticated in South America for about five thousand years. The alpaca, a member of the camelid family and a cousin of the llama, played an important part in the early Inca civilization in the high mountains of South America. The Inca royalty's clothing was made from the fine, soft, luxurious fleece of the alpaca. Invasion of Peru and Chile by the Spanish Conquistadors caused the alpaca to flee to the higher elevations where they survived the harsh climate on low protein vegetation.
The first importation of alpacas to North American occurred in 1984. The major imports to North America came from Chile, Peru and Bolivia. A vote in 1998 by the Alpaca Registry, Inc. (ARI) membership resulted in the closure of the alpaca registry to future imports therefore shifting the focus to breeding of the North American alpaca. As of August 2011 there were only 160,000 registered alpacas accounted for by the ARI in the United States, of which only 6,029 reside in Texas.
Alpacas are raised for their fiber which is one of the world's finest natural materials. There are two types of alpacas, the huacaya (pronounced wa kai ya) and the suri (pronounced surrey). The fleece of the huacaya grows out from the body and has a fluffy appearance somewhat like that of a sheep.

The suri fleece grows in defined locks. Alpacas come in twenty-two natural colors, and they are usually shorn annually, yielding between two and twelve pounds of fiber.
Even people with little or no ranching experience have been quite successful as alpaca breeders. These gentle animals require minimal care, and as many as ten can graze happily on a single acre, making it possible for small acreage owners to become alpaca ranchers.
FREQUENTLY ASKED QUESTIONS